World's 1st Ketone Ester Drink
By viralsumo - 1:20 AM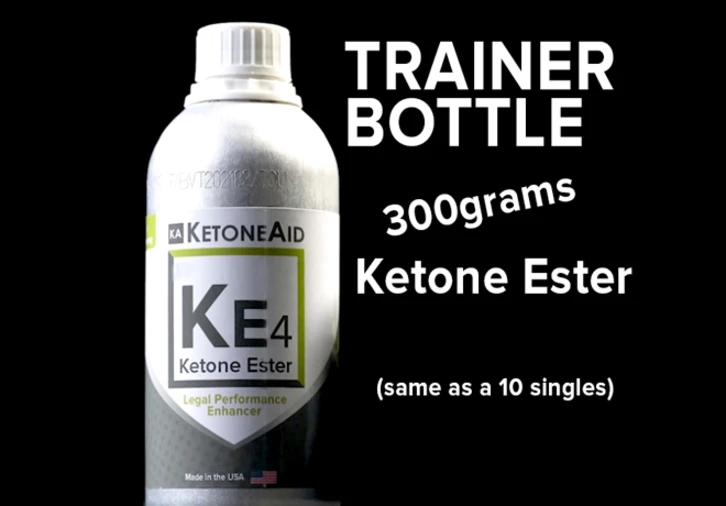 The Perfect Human Fuel. MADE IN THE USA. Patents Pending
MADE IN THE USA

Mimic a 5 Day Fast in 15 Minutes

Achieve very high ketone levels without the excessive salt load (up to 6.0mMol)

No Ketogenic Diet Required

Price dropped from $1,000 per gram to under $1 per gram.

FDA GRAS Generally Recognized As Safe*

Now Tastes "Not Bad"
Years in the making!
This drink literally cost $1,000 a gram today on a chemical website. Dave Asprey spent $25k for a 25 gram serving. Now with KetoneAid's multiple patent pending process, we got it down to under $1 a gram.
A Ketone Ester drink is an alternative fuel to glucose, ketones. Unlike ketone salts that have a massive salt load, the ketone ester is salt free. Some may find benefit with as little as 10 grams of Ketone Ester, others can take up to 75 grams a day.
What You Get, the break down:
The 3 Pack, 3 bottles with 30 grams of Ketone Ester (sold out)
The 10 Pack, same as above, just 10 bottles! (sold out) $99
Trainer Bottle, a larger bottle with multiple servings. 300 grams of Ketone Ester $299
3x Trainer Bottle. $879
Team Set. 10x the Trainer bottles. 3 Liters total of Ketone Ester $2,700
We purposely have a multi serving minimum commitment because we dread the idea of somebody only buying one drink and trying it on game day. Instead please ease into it and follow the protocol!
The Impact
These pre-sales will justify order large quantities so we can get the price down from $1,000 a gram to even further below $1 a gram. The demand appears high from the emails we get, but now is the time to see how serious the demand is, with pre sales.
If we sell out, it may be a few months before we can scale up higher.
Risks & Challenges
The good news is we are making this in the USA. But we still find that stuff happens. This process requires dedicated and custom equipment. Sometimes new equipment breaks and suddenly it takes a month to fix and everything gets pushed back. Or some regulatory hurdle finds a glitch. But I think we are ready enough to take orders. Finally! Thousands have asked us when, and now we are ready to promise delivery.
Here are some
athletes that tried Ketone Ester. The average athlete with 175 pounds took 60 grams of KE4 Ketone Ester.