1000 Notebooks in Your Pocket THE BEST NOTE BOOK IN THE WORLD
By viralsumo - 2:58 AM
The Everlast Mini is a pocket sized notebook built for the digital age. Although it feels like a traditional notebook, the Everlast Mini is endlessly reusable and connects to all of your favorite cloud services.
Like the original Everlast, when you write using any pen from the Pilot Frixion line, your writing bonds to the Everlast Mini pages like regular paper. But add a drop of water… and the entire notebook erases like magic.
The Everlast Mini also works with the Rocketbook App in a new and unique way. So before your notes go off the Mini, they go online, perfectly organized.
The Everlast Mini is not a whiteboard book.

You can use any pen from the Pilot Frixion line. Frixion gel pens come in all different kinds and colors and are available for purchase online and in stores.
When we launched the original Everlast, we worked closely with paper industry experts to find the optimal synthetic polyester blend to create pages that could be wiped clean of Frixion ink, but also felt perfectly natural to write on. Our Everlast customer love it because writing feels smooth and natural. We have designed the Mini with this same synthetic.
Everlast Mini pages do not have a weird high gloss. And, the writing does not just wipe away.
Here is where things get crazy. When you combine Frixion pens with Everlast mini pages, a dry paper towel doesn't do a thing. But a moist paper towel removes every bit of ink. So you can reuse your notebook over, and over, and over, and over, and over again.
MACHINE VISION
The Rocketbook System is the combination of a special notebook and a free mobile app. Write notes and create designs in your notebook with a pen. Then, using patent-pending image capture technology, the Rocketbook app accurately and quickly captures and bundles your notes together… in any orientation!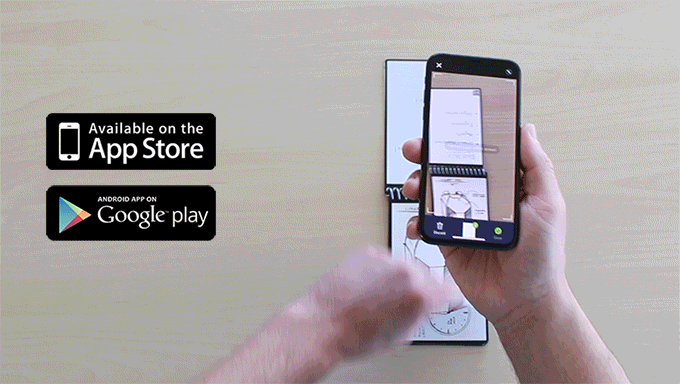 SEVEN SYMBOLS
The Everlast Mini works with the Rocketbook cloud organization system in a new and unique way. Using the Rocketbook app, you assign 7 shortcut "symbols" to a destination of your choice: any folder inside Dropbox, Evernote, Google Docs, your email address, or many other cloud services. After you have completed scanning pages, simply select the destination symbol(s) you would like to send your notes. The Rocketbook app instantly files your notes in the right place.
IMAGE PROCESSING
In an instant, the Rocketbook app crops and enhances each page so your digital notes are more crisp and vibrant than the real thing.